Hinnat sisältää postit ellei toisin mainita. Jos ostat enemmän mahdollisuus alennukseen.
Osa cdistä on täysin korkkaamattomia.
Vain tilisiirto.
Maksu tilille ja cd postiin.
ENG:
Shipping fees including price otherwise not said. If you buy more you might get some sale.
Some cd's are still in wrap.
Only Paypal but in EU I wish bank transaction. Buyer pays the Paypal fees.
When I get your payment I will ship the packet for you.
Yes I ship worldwide.

Wakremichi 150€
Reila G. 15€
Reila O. 15€
Reila D. 15€
Hyena Auditory 15€
Hyena Optical 15€
Zetsu 25€
Miseinen 25€
Zakuragata no yuuutsu 25€
Regret Auditory 15€
Regret Optical 15€
Vortex Auditory 15€
Vortex Optical 15€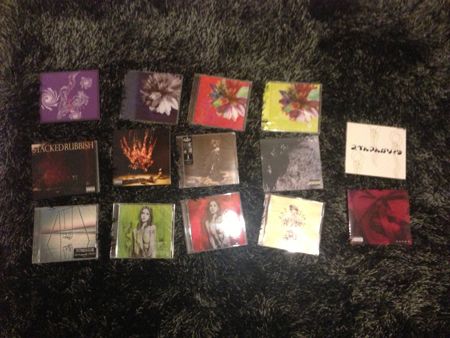 Akuyuukai 24€
Cassis A 15€
Cassis B 15€
Cassis C 15€
Stacked Rubbish 15€ SOLD
Guren Auditory 15€
Guren Optical 15€
Gama 25€
Supermargarita 25€
Traces best of 15€ SOLD
Fadeless Auditory 15€ OCCUPIED
Fadeless Optical 15€ OCCUPIED
Film Bug I 25€
Hankou seimeibun (limited) 25€


Division (limited) 50€ + shipping




Red Auditory 15€ SOLD
Red Optical 15€ SOLD
Pledge A type 15€
Pledge B type 15€
Cocaine soup 25€
Zetsu, Miseinen, Zakuragata no yuuutsu 15€
Remember the urge Optical 15€
Distress and coma Auditory 15€
Distress and coma Optical 15€
Shiver Auditory 15€
Chigire 25€ OCCUPIED
Leech Optical 15€
NIL (limited) 40€ SOLD
DIM (limited) 40€
Disorder (limited) 40€
Leech Auditory 15€
Before I decay 15€